Tool for documenting and sharing your circuits.
Fritzing can be used for many things. The over-arching aim of the software is to make easier the process of moving from a prototype circuit ("cable salad") to a Printed Circuit Board (PCB). You can also use it to simply document your "cable salad" so that it will be more easily understood by both you and others.
Below are screenshots of a simple RGB LED example, showing the 3 "lenses" through which you can view your circuit, "Breadboard", "Schematic", and "PCB". The "Breadboard" view shows the real-world view of what your prototype looks like. The "Schematic" view shows the logical blocks and how they are connected. The "PCB" view shows the view of how the physical components used in the "Breadboard" view could be placed and electrically connected on a printed circuit board.
RGB LED Breadboard: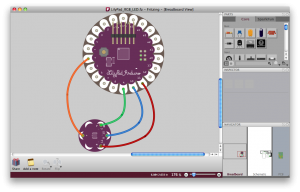 http://www.objectdna.com/workshops/wp-content/uploads/2011/10/Screen-shot-2011-10-30-at-16.00.52-1024x656.png 1024w, http://www.objectdna.com/workshops/wp-content/uploads/2011/10/Screen-shot-2011-10-30-at-16.00.52.png 1149w" sizes="(max-width: 300px) 100vw, 300px" />
RGB LED Schematic: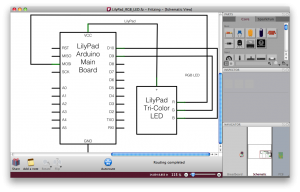 http://www.objectdna.com/workshops/wp-content/uploads/2011/10/Screen-shot-2011-10-30-at-16.00.58-1024x656.png 1024w, http://www.objectdna.com/workshops/wp-content/uploads/2011/10/Screen-shot-2011-10-30-at-16.00.58.png 1149w" sizes="(max-width: 300px) 100vw, 300px" />
RGB LED PCB: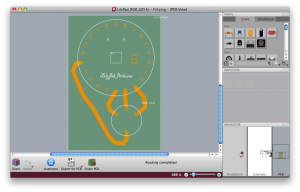 http://www.objectdna.com/workshops/wp-content/uploads/2011/10/Screen-shot-2011-10-30-at-16.01.01-1024x656.png 1024w, http://www.objectdna.com/workshops/wp-content/uploads/2011/10/Screen-shot-2011-10-30-at-16.01.01.png 1149w" sizes="(max-width: 300px) 100vw, 300px" />
Download Examples: LilyPad Fritzing Examples