Group 5
Group 5
Day 8: The End
We went to the common ground, presented a presentation, and had dinner with the whole Design and Innovation family. It has been a stupendous week, a memorable one too. Thank you Stefan, Hana, Matt. Thank you Professor Sunil and Ramesh. Hope that our innovative engineering pursuits will not cease here!
Group 5
Group 5: Day 7 – P & P, a.k.a Prototype & Presentation!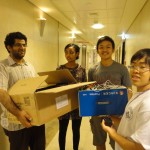 After assuring ourself that the construction of the balloon-and-string output is strong enough to hold the rotation of the motors, we finalized everything: programming, graphing using Processing, actual human testing, and giving a practice presentation. When we tested our device on Stefan, one of our instructors, we were able to see the graph going down, [...]
Group 5
Group 5 – Day 6 – When The Sensor Gets Real
We finally managed to finish programming the Wearable Anxiety Sensor. In addition, we integrated Processing and Arduino in such a way that we could see the sensorValue a.k.a the level of conductivity in the form of graph–the output for the doctor of the patients. Video
Group 5
Group 5 – Day 5 – The CSE Tour
During the fifth day, two of us went to CSE and laser printed the sketches we drew the day before. There were some details on the sketch that we changed on purpose, such that the design could be more compact and easier to cut.
Group 5
Group 5: Day 4 – EngiDrawers!
Some of NYU Abu Dhabi students often question why future engineers need to take a course called Design and Innovation. Well, the innovating part makes sense, but why designing? This day, our group realized that possessing the ability to draw a design on a piece of paper is very essential for engineers. Our product, the wearable [...]
2011 Group Posts
>
Group 5
Group 5 – Day 3: Anxiety Galvanic Sensor
During the third day, we delved deeper into our idea of connecting the emotional bond between doctors, patients, and their relatives by proposing a product/device that we are planning to build, a device which we call the 'Anxiety Galvanic Sensor'. This wearable technology detects patients' anxiety by identifying the difference of conductivity of their skin, [...]
2011 Group Posts
>
Group 5
Group 5: Day 1 & 2 – The Group
At last, this is the moment engineering majors have been waiting for: the ex(citing+hausting) engineering lab! Our group consists of four people with different backgrounds, and we come from different countries. Left to right: There is Umair Saad, from Pakistan, Guinandra Jatikusumo from Indonesia, Sarah Abdu from Ethiopia, and Jeffrey Chen from the United [...]